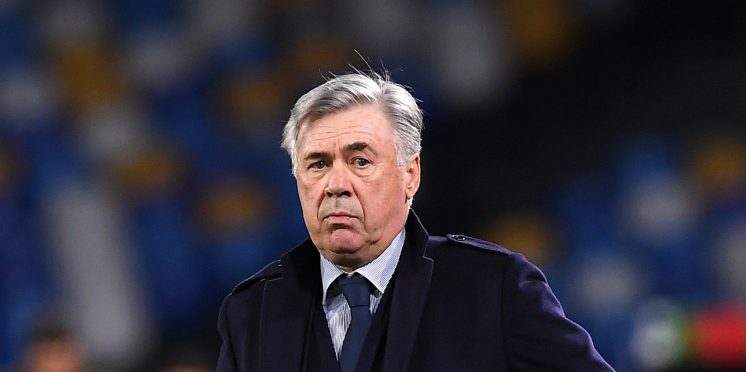 Why Carlo Ancelotti would be a horrible appointment for Everton
After being sacked by Napoli hours after beating Genk 4-0 on Tuesday night, Carlo Ancelotti was immediately the name on the lips of many Evertonians.
And who could blame them? This is world-renowned manager who has won league titles in four major European leagues and no less than three Champions League titles. He's managed the biggest clubs in the world.
But he'd be a horrible appointment for Everton.
Wait. What?
Flashback
"We want Mourinho lad. And if not, we'll take Pellegrini."
That was the impassioned cry of one Evertonian as he irately left Wembley after what turned out to be Roberto Martinez's last game in charge of the Blues in 2016.
YouTube: Everton Fans Rant – We Want Mourinho Or Pellegrini | Everton 1-2 Man Utd
Pellegrini was on his way out of Manchester City at this point. He was a recognised "winning" manager.
West Ham hired this "winning" manager in an ambitious appointment and now they're a title challenging, world class team. Erm… actually they're about to sack him because they've not progressed at all.
Carlo Ancelotti has that same aura. He's experienced success with the biggest clubs in the world, but when you dig a little deeper, you might argue he should have done better. And the owners of these club's would agree: he's been sacked within two seasons by four of his last five employers.
Do you think Ancelotti gets excited when thinking about the Everton job? Do you think he'd be working morning, noon and night to get us challenging for the title? I highly doubt it. He's got nothing to prove. It's just another paycheck.
Think Different
I've talked about this before. Everton need to "think different", as Apple would say. Names don't get you anywhere.
After sacking Ronald Koeman in 2017, I suggested Everton should go for Lucien Favre – a manager who perennially overachieves with a dynamic style of football. The Blues could easily have picked him up from Nice at that point, but now he's at Borussia Dortmund.
Everton need an overachieving manager. Managers who go beyond expectation. Eddie Howe at Bournemouth has wildly overachieved, but maybe his style of football is too close to that of both Martinez and Silva – with the Evertonians' scars too raw on that front.
Maybe then, another manager who has overachieved massively – and is currently in the Premier League – could be the perfect appointment: Chris Wilder.
It might not be a name that gets pulses racing, but maybe that's just because he's English. Wilder has never been sacked from a management role. He's also gained promotion with four of the five teams he's managed. In the most recent case, he took a Sheffield United side from floundering in League One up to the Premier League – and looks to have stabilised them there – in less than three years.
Some Evertonians seem to have the belief that signing a manager from a smaller club is in someway unambitious. But, if you look at players, the top teams sign the top players from the teams beneath them. It's rare you have a wild success story when signing an established player from a rival top team. And it's the same with managers.
Everton need a manager that's hungry and with a point still to prove.
Everton need a manager that can truly connect and resonate with the fans.
Everton still need to start thinking different.
---