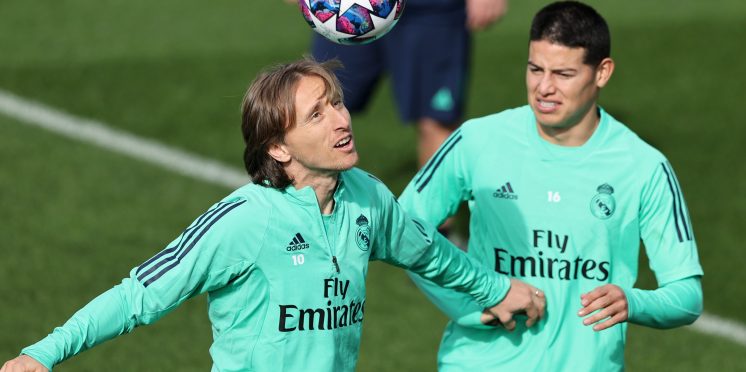 Real Madrid fans react to Everton interest in playmaker
Real Madrid fans have reacted to reported interest in Colombian playmaker James Rodriguez.
Arriving at the Santiago Bernabeu in 2014 following an excellent performance in the Brazil World Cup, Rodriguez was expected to go on and become a superb asset for Los Blancos, however, he has struggled.
Inconsistent playing time and troubling form saw his time in a Real Madrid shirt come to an end in the summer of 2017, as he joined Bundesliga side Bayern Munich on a two-year loan deal.
Whilst his form was moderately good for the Bavarian side, Rodriguez returned to Madrid last summer and he has since been utilised sparingly by boss Zinedine Zidane.
Rodriguez has made just seven league appearances, netting one goal in the process, and transfer rumours have already begun with the likes of Everton linked.
Toffees boss Carlo Ancelotti is a big admirer of Rodriguez and the Italian will be eager to put his own mark on the Everton squad this summer after taking over earlier this term.
Madrid fans, who have arguably not seen the best of Rodriguez during his time in the Spanish capital, have discussed his potential exit, leading to many to look at those links of a move to Goodison Park.
Twitter: Juventus, Napoli, Man United and Everton are all interested in signing James Rodriguez in the summer. [@diarioas] https://t.co/OuaGORSUsR (@InfiniteMadrid)
Twitter: @InfiniteMadrid @diarioas Go to man utd or Juve…. Go and win everything man… I always wish you luck…. Will lo… https://t.co/kwVroUy9hO (@dileepan8)
Twitter: @EezyThaDon @InfiniteMadrid @diarioas Ancelotti wants him and they had a good relationship. (@GoldenSphex)
Twitter: @InfiniteMadrid @diarioas Juve is the best Club for him (@NiiteTitan)
Twitter: @InfiniteMadrid @diarioas Quality Player but unfortunately doesnt fit in our current system. Everton is probably th… https://t.co/SR5gAvreZT (@Jaivir1305)
Twitter: @InfiniteMadrid @diarioas Everton / Carlo or Juventus / Cristiano plsss ❤️ (@PaRdrgz)
Twitter: @InfiniteMadrid @diarioas Which Man Utd, we've got Bruno and Pogba (@wuodarujo2)
Twitter: @Jaivir1305 @InfiniteMadrid @diarioas Or man united to sweeten the pogba deal 😌 (@HusainAdams22)
---