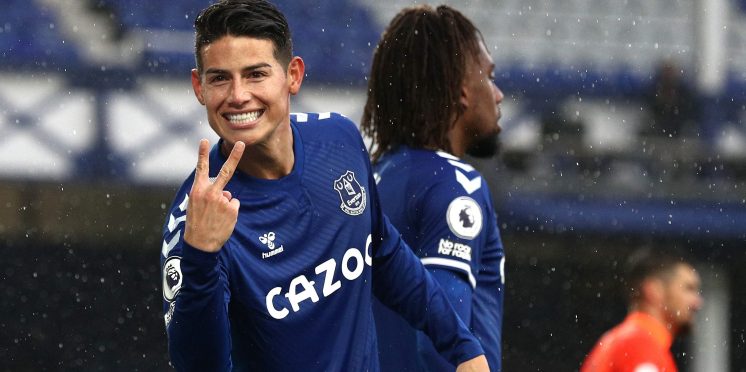 Many Fans have Mixed Reactions to James Rodriguez Goal Award
Superficially, it may seem bizarre that a player winning Everton's goal of the month award would be a casus belli to justify Twitter angst, but for James Rodriguez that is exactly what happened.
The Colombian's sumptuous curler against Leicester in January's 1-1 draw earned plenty of plaudits from point-winning technique on display, but that did not prevent wider frustrations from spilling over.
In what was ordinarily an uplifting post, Everton's club Twitter account confirmed that fans had voted Rodriguez' strike as the award-winning goal, but the reactions to the news took a sourer note in some cases.
Many fans used the opportunity to berate the poor form in recent games – form that has seen only one win in Everton's last six Premier League games. Others were more positive and lamented recent absences.
With the all-important Merseyside derby on the horizon, many Blues are desperate to see their team show a greater professionalism and combative mentality against their arch-rivals.
Liverpool themselves have lost all of their last three games and will equally be eyeing up Everton as a moment for victory that could ignite an upturn in results.
Here are some of the most notable reactions berating the team, putting the spotlight on Rodriguez himself and looking ahead with a cautious optimism that results could improve in the near future…
Twitter: @Everton @jamesdrodriguez @Davanti_Tyres Wished we could have James richarlison and Calvert-Lewin available for every game (@Rex3914)
Twitter: @Everton @jamesdrodriguez @Davanti_Tyres Great goal but he's offered absolutely nothing lately (@Adamsmi53884531)
Twitter: @Everton @jamesdrodriguez @Davanti_Tyres We need James, and Gomes in our midfield, at least to hold position agains… https://t.co/5bimY4pjBI (@ShimaelS)
Twitter: @Everton @jamesdrodriguez @Davanti_Tyres How about some wins and contract terminations for Delph in particular (@efcmidd13)
Twitter: @Everton @jamesdrodriguez @Davanti_Tyres Quality goal (@TheApexHound)
Twitter: @Everton @jamesdrodriguez @Davanti_Tyres deserved, and now step up for the big game ahead lads (@Evertongoats)
---