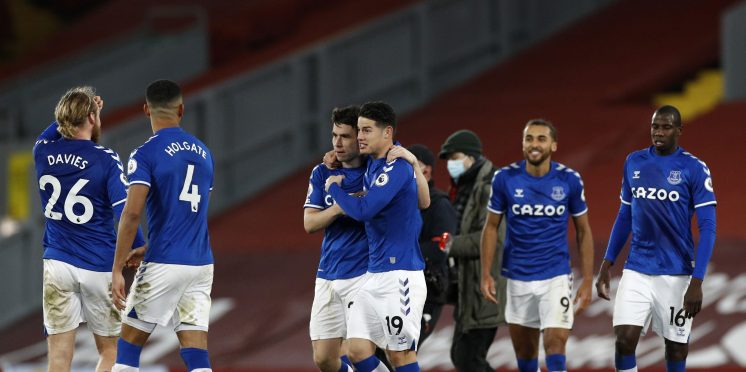 A Bizarre Pattern Against Everton is Emerging [Opinion]
A pattern from the Spanish press is starting to emerge surrounding the handling of James Rodriguez at Everton.
Ever since the Colombian playmaker completed a sensational switch from Madrid to Merseyside, SportWitness has noted what it describes as an 'obsession' in the Spanish press with Carlo Ancelotti and Everton's handling of the playmaker.
Many fans of Spanish football are infinitely justified in looking wistfully in the rear-view mirror at the annals of footballing history in which Rodriguez was a true Galacticos signing – a £67.5 million man, no less.
Gracing the estadios of the upper echelons of the Spanish game, the Colombian scored 37 goals and notched up 42 assists for Real Madrid following his big-money move.
Off the back of a scintillating set of displays in the 2014 World Cup, 79 direct goal contributions in 125 games is no creative record to be ashamed of.
Yet since his two-year loan at Bayern Munich and his eventual release to Everton, Carlo Ancelotti is becoming a curious bogeyman of the Spanish press.
Previous reports from Defensa Central offered conjecture that Rodriguez was unsettled for reasons as trivial as the weather and the increased physicality of the league, and Marca is the latest source to take aim.
Marca has, in no uncertain terms, slammed the Toffees' tactician for offering a lack of clarity over James' fitness.
Recently excluded in the last two Everton games, Marca called upon Ancelotti and the club for greater transparency.
Ancelotti has 'been unable to clarify' Rodriguez' situation, before arguing that 'far from dispelling doubts' this has only added fuel to them.
Ancelotti's refusal to provide details on the Colombian's injury is claimed to only 'feed speculations' – something that only 'harms' the player.
Accusing Ancelotti of 'obscurantism', Marca is one source fitting an emerging pattern of reports of an unsettled playmaker – so much so that rumours filtered to Ancelotti himself in a recent press conference.
Put simply, this bizarre agenda seems intent on destabilising Everton with no clear motive other than a less-than-amicable exit from the Spanish capital for Rodriguez.
Ancelotti did well to shut down rumours of Rodriguez' unhappiness, but it seems the agenda is not going away soon.
---