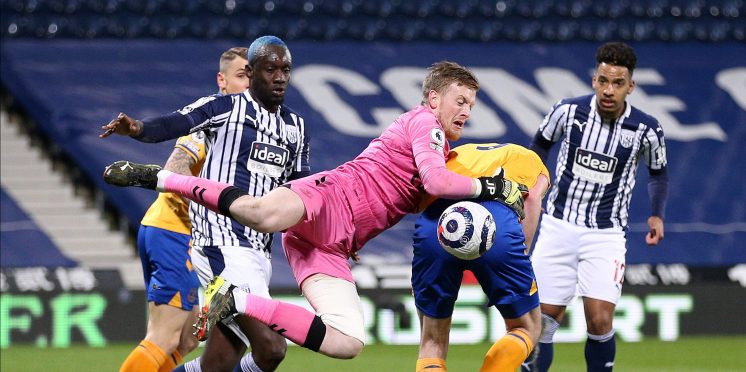 Many Everton Fans Debate Jordan Pickford Form
After keeping a third successive clean sheet, many Everton fans generally agreed on one key thing – that Jordan Pickford was finding his feet at Everton again.
The 26-cap England no. 1 has featured in the spotlight for the wrong reasons, especially towards the start of the season, following some calamitous errors and soft form.
However, Pickford's recent upturn has seen the Toffees march back on the road to European football next season and they were denied a top four place following the 1-0 win over West Brom only by an Anfield win for Chelsea later that evening.
Regardless, optimism will be returning to Goodison Park surrounding the ability of Carlo Ancelotti and his squad to keep the Toffees firing up the table, and a solid defensive foundation provides a formidable backdrop to ongoing success.
Prior to the West Brom win, Pickford's comments already indicated a renewed optimism and a positive tone:
"We're in a good place… We're a couple of points off fourth now and we want to keep building that momentum towards the end of the season," said Jordan Pickford.
Many Everton fans took to Twitter to discuss Pickford's turnaround in recent form, though some Evertonians were not so convinced that Pickford was getting back to his best…
Twitter: @Everton We're quick to point out his flaws but my word has he been on some form lately (@Joe43212525)
Twitter: @Everton In all fairness Jordan is playing very well with calmness and authority. (@PeterPapadopo11)
Twitter: @Everton hope Jordan has turned a corner with the Blues. Been consistent of late. Much calmer and more serious I think . COYB! (@chughs67)
Twitter: @Everton @LParr01 Had a lot of criticism this season due to mistakes he has made in the past but have to give him a… https://t.co/em1bJPei7A (@bobbybefc)
Twitter: @Everton He's still not reliable, lucky to get the save he went with the wrong hand first, he hesitated coming out… https://t.co/AOq1Mp20T9 (@AlanCarlson19)
Twitter: @Everton He's a good shot stopper but that's all he is. (@fozzerbluenose)
---