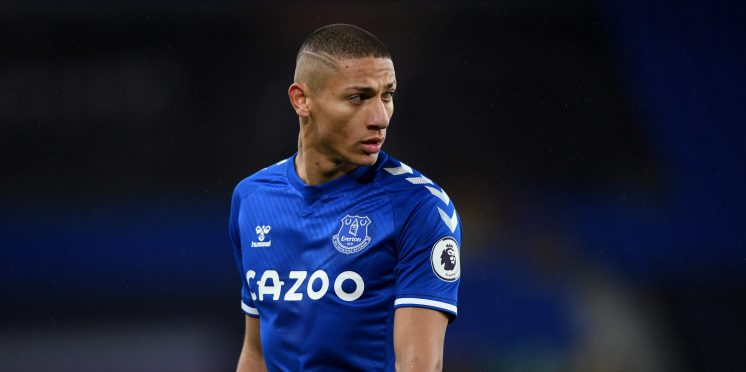 Virals: Richarlison Calls Out Thiago for Instagram Snub
Everton forward Richarlison has gone viral for his controversial call-out against a player from Everton's old nemesis Liverpool.
The Toffees hitman called out Liverpool midfielder Thiago Alcantara for ignoring his private apology on Instagram, going public with the snub he received.
A controversial 2-2 stalemate between the sides in the Merseyside derby saw the Brazilian send off late on for a reckless challenge on the Reds' playmaker – a continuing source of tension by Richarlison's account.
"The last game I made that challenge on Thiago and got sent off. My goodness," Richarlison told Brazilian YouTuber Pilhado, alongside other Brazilian stars in David Luiz and David Neres.

"Then I went on Instagram to apologise and such. He only saw it. I said 'I'm going to delete this message too, since he doesn't want to reply'.

"Then I went there and deleted it. He didn't answer, no."
Richarlison scored the opening goal in the return fixture in February as the Toffees ground out a deserved 2-0 win, but claimed there was on-pitch animosity between the pair.
Richarlison added:
"Then there was the derby now, at their home, he didn't look at my face, I didn't look at him, either. The game goes on. He ignored the pigeon."
Read Everton Verdict
Clearly, Richarlison's physicality made a strong impression that almost matches the ferociousness of his original challenge.
From Richarlison's perspective, there is every chance he is inflating the scale of the situation but he nonetheless sheds light on a strength of ill-feeling.
That unsporting attitude from Thiago will only serve to exacerbate the wider poignancy of the Merseyside derby in the eyes of both men.
---