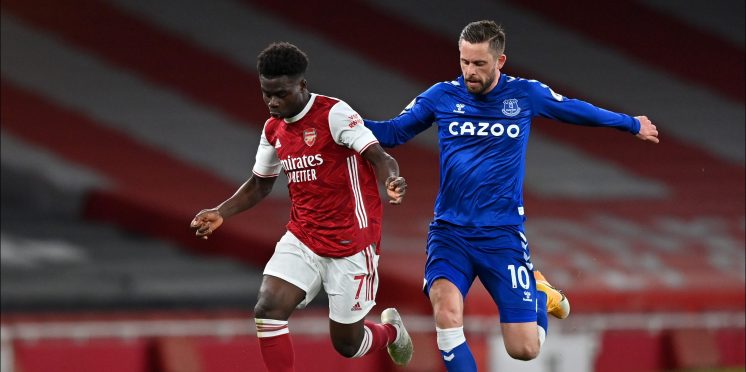 Keith Hackett Calls for VAR Changes after Everton Escape
Former Premier League referee Keith Hackett has called for PGMOL to address a controversial error in their judgements in the wake of a flashpoint in Everton's 1-0 win over Arsenal.
A blunder from Arsenal shot-stopper Bernd Leno ensured the Toffees walked away with all three points on Friday night, but it could have been a different tale.
The Gunners were awarded a penalty in the stalemate, only for a previous offside moment in the build-up to be recognised, thus denying the chance for Arsenal to add a goal of their own to the score.
The decision against Nicolas Pepe went down to the wire, with VAR deploying its lines of measurement in full force.
Speaking to Goodison News, Hackett felt that more must be done to enable greater on-field agency to referees:
"I just feel that these are nonsense decisions and we've got to get back to some degree of reality, and I think that the PGMOL and Premier League just have to review this and just say 'what do you want'.

"Mike Riley [General Manager of PGMOL] will be arguing with the Premier League that this is offside, that it doesn't matter how far the distance is, this is the law.

"Now I'm arguing on the basis that we went through a lot of hard work with goal-line technology to make certain that I could sell it to the public and sadly, I don't think any of us in football believe the drawing of these lines are accurate enough.

"I think the first step next season would be to throw out the lines, don't have them, operate like the MLS and if they still want the lines as clubs and PGMOL, operate like the Netherlands and give them the lines and say that when they're together, that's not offside."
Read Everton Verdict
Hackett's comments boast some merit.
ESPN journalist Dale Johnson took to his personal Twitter profile to highlight how the Eredivisie VAR model is attracting praise in the Netherlands.
One of the key differences to the Premier League is that "if the final red and blue lines touch, the decision stays on field. It's the umpire's call."
Resultingly, the 10cm margin for error in offside calls could be the safety net to end this recurring theme of VAR controversy.
---