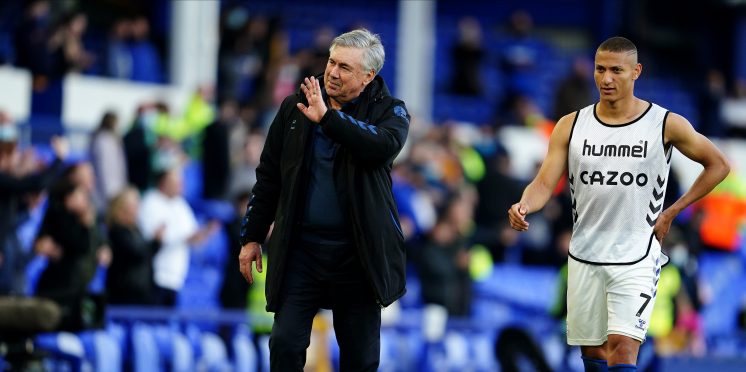 Noel Whelan Claims Next Everton Boss Must Appease Stars
Noel Whelan has claimed that Everton will be able to retain key players such as James Rodriguez, Allan and Richarlison – but only if an experienced man-manager is hired.
Carlo Ancelotti's sudden departure from Everton caused a rift at the club, with reports in The Athletic alluding to the impact of the loss of Ancelotti's presence.
Following his shock switch from Merseyside to Madrid, Richarlison and James Rodriguez are said to have been left in 'complete shock' by the sudden departure.
Speaking to Football Insider, the ex-Leeds marksman discussed a potential summer headache that could arise in terms of appeasing key squad members:
"This is the problem," Whelan claimed.

"When players come to a club because of a manager, it's the manager that keeps them happy.

"This is where the next manager becomes even more interesting and important. When you have these sort of players who can be a bit [extroverted], they need behind the scenes care.

"You need another manager who will put all that faith into the player.

"There's no doubt, I don't think he's going to jump ship. If you get that right manager in, that's half of the problem solved.

"The man management of these superstars, your Richarlison's, your Rodriguez's, your Allan's.

"I think they are the three players who need the most attention. The rest of the players, who have been [there longer], don't seem as needy."
Read Everton Verdict
Given Ancelotti's previous success with the likes of Chelsea, Real Madrid and Bayern Munich – to name but a few illustrious European clubs on his CV – his stature brought pulling power to Everton.
With Richarlison having been an Evertonian since 2018, the fact his arrival pre-dated Ancelotti's is further evidence of Ancelotti's permanent impression on the squad.
Evidently, the working relationship enjoyed between Ancelotti and key personnel was an immense boon to the ability of the Toffees to compete in the transfer market.
Leaving the club in a state of flux, ensuring that Everton's next manager has the interpersonal acumen to get the squad pulling in the right direction is of paramount importance.
---