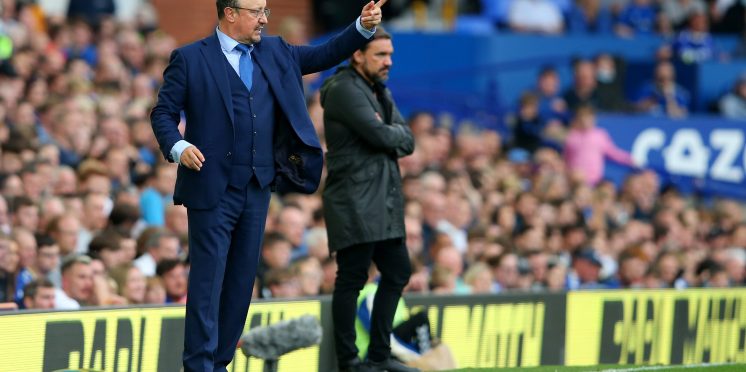 Neville Southall praises Rafa Benitez' performance at Everton
Everton hero Neville Southall has offered a series of reflective thoughts on the performance of new Everton manager Rafa Benitez following his start to life in the blue half of Merseyside.
Southall discussed a wide range of topics as he spoke to the Liverpool Echo, including the performance of a host of new signings under the auspices of the former Liverpool manager.
Having lost just once in the Premier League this season in a 3-0 defeat to Aston Villa with a depleted side, Everton find themselves sat in fifth during the current international break and have enjoyed a stellar start to life under the new Blues boss.
Blues legend Southall gave his honest opinion of how fans have accepted Benitez so far.
The former goalkeeper remarked:
"So far, it's going ok so fans can be reasonably happy.

"Some a still a little bit unsettled with Rafa, but he's came in and got results and he's doing well.

"I think people are pleasantly surprised, but still reserved to be fair. He's not been in the job that long so eventually he'll do well for us.

"He's changed the attitude of the players which is immense, I think.

"They're a talented bunch of players, perhaps their attitude at times wasn't great. But now we seem to have them all working together.

"It's been a delight for me to watch".
Not all sections of the Everton fanbase were content with seeing a former rival manager appointed to the dugout.
Around the time in which the press were speculating over his appointment, fans unfurled threatening banners near Benitez' home – but Southall feels such vitriol has subsided.
That has been helped by the arrivals of Demarai Gray and Andros Townsend.
Between them, the duo have eight goals and four assists from nine games in all competitions and have lifted the spirits around Goodison Park.
He added:
 "Two people who have come in to work hard, that's what you want from players isn't it?

"That's the idea. If people have got talent but don't use that talent through hard work it's stupid. These two have come in and they've set their stall out. It's been a joy to watch.

"Money-wise it's cheap, but I think what they've brought to the club is invaluable. What price would they be now to Everton? They might not be that much to anyone else, but to Everton you can't put a price on it really.

"They've come with the right attitude, it looks like they've been given the chances, the manager trusts them."
Read Everton Verdict
Few would dare to remain largely discontent with the changes at Everton.
Benitez has assembled a new-look side on a modest budget and found a way to yield the best from his side.
Results are ticking forward like a well-oiled machine and success looks to be around the corner if current form continues.
There is little to grumble about if the club's current trajectory continues.
---