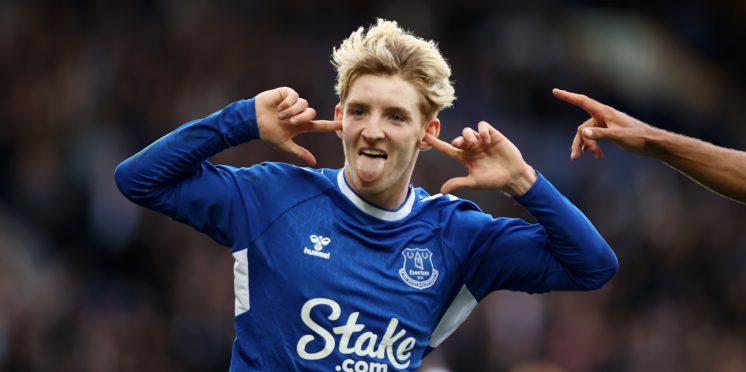 Everton: Anthony Gordon questioned by former referee
Everton currently have the joint-highest number of yellow cards (32) branded to them this season in the Premier League alongside Manchester United and Nottingham Forest.
Six of those yellow cards have been given to Anthony Gordon, who missed the Toffees' 2-0 defeat against Tottenham Hotspur earlier this month through suspension after picking up his fifth booking of the campaign after making just 10 appearances.
Speaking to Football Insider about the winger and the number of times he's found himself being yellow carded this season, former referee Keith Hackett had this to say about the situation: "It is unusual wingers at the top of the charts.
"What is his temperament like? Is he being cautioned for an offence or is he being cautioned because he has a loose tongue?
"The referee has a step management process. At this level, a referee will have a quiet word with the player first. The second step is bringing the captain over and having a conversation with him.
"You tell them both that if there is no improvement a card will be handed out. A lot of that process is in play. Gordon needs some advice."
Earlier this month, Everton manager, Frank Lampard, said he was aware of Gordon's knack for picking up yellow cards on a fairly regular basis.
The Englishman, who Pat Nevin claimed would find it "difficult" to get regular playing time at Chelsea, who were linked with a move for the Toffees star last summer, may have to learn how to keep a lid on his temperament if that is the issue as Hackett questioned.
Moving forward, if the 21-year-old can iron out that side of his game and avoid being cautioned so often and instead focus on adding more goals and assists to his game, this should put to bed any questions or concerns there may be about his conduct on the pitch.
---