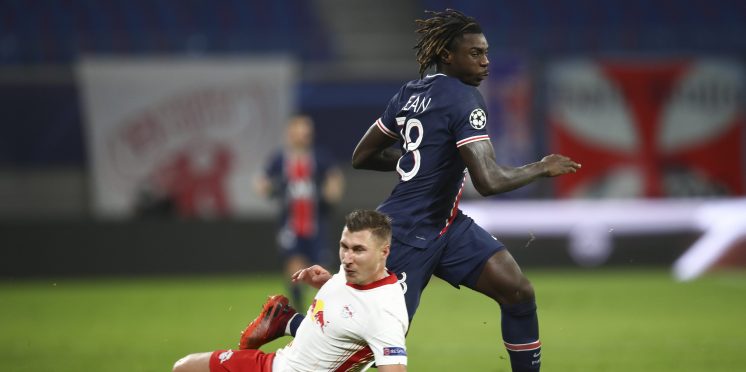 Everton's Moise Kean Outshines PSG Duo Neymar and Kylian Mbappe
Everton loanee Moise Kean appears to be going from strength to strength after receiving glowing praise from reputable French publication L'Equipe [via HITC].
The Italian striker, currently on loan at Paris Saint-Germain, was rated higher than the likes of Kylian Mbappe and Neymar, who are two of the most valuable football players in the world – their combined Transfermarkt value of £277.2m is eye-watering.
Despite a disappointing 2-2 draw against Bordeaux at the weekend, L'Equipe offered a glowing endorsement as they awarded Kean a 7 out of 10 rating – the highest of any PSG player.
Indeed, Kean capped off a well-rounded offensive display with a goal in the draw as his side rescued a point, a nonetheless disappointing result. Indeed, Neymar was rated as a 6/10 performer whilst Mbappe achieved a scathing 3/10 in L'Equipe's judgement.
Kean has already managed four goals in just six league appearances for the Parisian giants and he is valued at just £22.5m in comparison to his illustrious attacking teammates.
The Italy international's fantastic performance was not solely defined by his offensive display; 'the attacker who defended the most' was how Kean was described as he exhibited a superb work rate to benefit the rest of his team.
Read Everton Verdict
A depiction of Kean's work rate on and off the ball should bode well in the eyes of Carlo Ancelotti as Everton continue to keep a keen eye on the 20-year-old's progress.
His impressive form could spell great news for the Toffees; his added firepower and increasing confidence indicates he could be set for a return to Goodison Park, maintaining a good future on Merseyside.
---