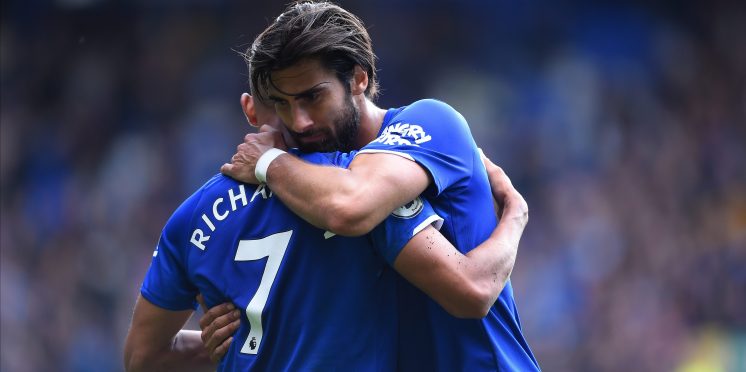 Everton fans are loving the club's recent Andre Gomes video content
Many Everton fans have reacted positively to Everton's recent Twitter video featuring Andre Gomes and two young fans.
The Portugal midfielder, who is currently out injured after suffering a fracture dislocation to his right ankle against Spurs in November, is on track to return from his lengthy injury lay-off against Arsenal next week.
In the meantime though, the 26-year old has been the focus of much of Everton's social media content, the latest of which saw him surprise two young Everton supporters before the Crystal Palace game last weekend.
In the video, Gomes drove the two delighted fans to Goodison Park before the game against the Eagles, where Everton would run out 3-1 victors over Roy Hodgson's side.
Gomes also took a selfie with the duo and handed them each a scarf, before meeting them pitch-side after the game, giving both of them signed shirts.
Reacting to the near seven minute video on social media, a number of fans praised Everton for the wholesome content, and Andre Gomes for understanding the club and continuing to connect with the fans.
Twitter: @Everton So proud to call @aftgomes our player. Just understands and gets the club. Can't wait to see you back on the pitch real soon Andre💙 (@EvertonNewsFeed)
Twitter: @Everton I can't stop watching this, my gorgeous boys had the most amazing day, memories they will never forget and… https://t.co/VBOdrPMJ3a (@Lynseywatkin1)
Twitter: @Everton AV GOT YOU ON THE BACK OF ME SHIRT

Boss this. Unreal content. Do it more. Love you @aftgomes 💙 (@EvertonDesigns)
Twitter: @Everton Brilliant. Special club. (@RobSloman)
Twitter: @Everton That storm Ciara has blown something in my eye 💙💙💙 (@EFC_FansForum)
Twitter: @Everton Stuff like this is so easy for players to do but a lot overlook it. That's a day they will never ever forg… https://t.co/dopne3Fpqq (@TheTofftees)
Twitter: @Everton Absolutely brilliant. A very special bond between fans & players which @aftgomes gets, no doubt 👏 (@rodgerarmstrong)
Twitter: @Everton What it's all about 💙 they'll be forever telling the story of how @aftgomes drove them to Goodison. (@franielizabeth)
Will we see Andre Gomes back in action for Everton against Arsenal?
Yes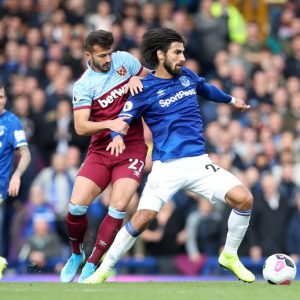 No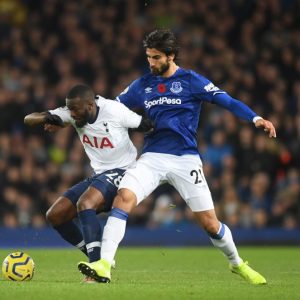 ---