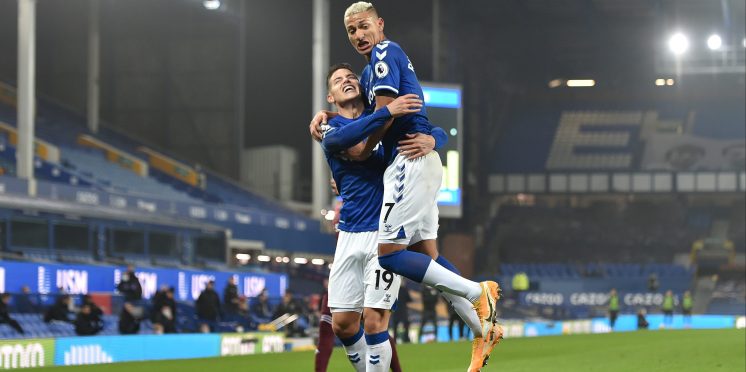 Richarlison admits he 'almost cried' over disagreement with Carlo Ancelotti
Everton's Brazilian forward Richarlison has revealed how he went so far as to deceive Carlo Ancelotti to avoid being ruled out for international duty through injury.
According to Globo Esporte's podcast via Sport Witness, the 23-year-old recalled a tense encounter with the Italian at the Toffees' medical room in which Richarlison fought to retain his spot on international duty with the Brazilian national team.
Indeed, that very subject formed much of the basis of a wide-spanning interview in which the Toffees man revealed the paramountcy of playing for Brazil. He told Globo Esporte:
I had sprained my ankle and it was kind of swollen. And then Ancelotti arrived at the medical department and looked at my ankle like that and said, he did it like that with his little finger, 'you are not going to the national team'.

And then he asked the doctor to evaluate me and said that I wasn't good. That's where I picked up the fight. I said 'no, I'm fine, I'm going to the game'. That was the game against Brighton at home. And then I went to the game even in pain.
It was then revealed as to how Richarlison managed to conceal the full extent of his ankle issues as he played through pain.
Of course I'm not a fool, I covered my ankle with a bandage, I said I was fine, I was walking, I even started walking normally. And that's when he called Tite and said I could go to the national team.

When I arrived at the national team, I remember that I got to Sassá, who's the physiotherapist there, and I said: 'Hey Sassá, do your best to heal me so I can play'. And I remember that I'd arrive at the medical department at seven in the morning and only left at one in the morning.

Well, Sassá was crucial to make me 100%. The guy would barely have lunch and was already there with me, and this love I have for the national team is unique.

I think when Ancelotti said I wasn't going, that sadness hit me, I almost cried at the club.
Read Everton Verdict
Despite the slight underhandedness exhibited by Richarlison, this story serves him well as a character.
He evidently shows a hunger and desire to serve Brazil competitively and that hunger translates into his desire to prove himself at Everton too. The relationship between both aspects mutually raises his game on two fronts.
---