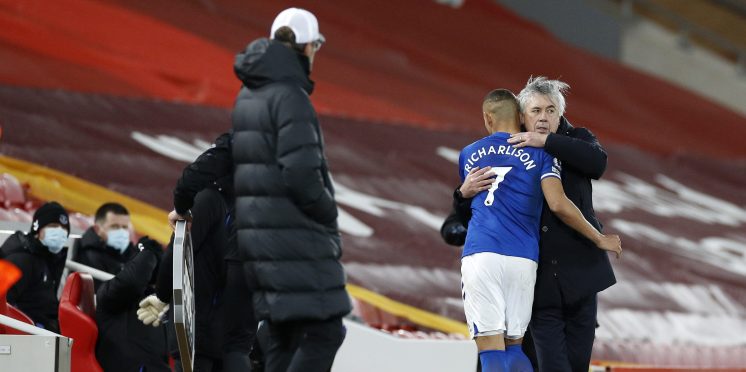 Everton fans loved Richarlison response to disparaging rival fan
Everton forward Richarlison earned praise from plenty of Toffees fans after issuing a rebuttal to an enraged Liverpool supporter on Twitter.
The Brazilian winger scored an early opener against Jurgen Klopp's side to put the Toffees in the driving seat of the Merseyside derby. The win at Anfield was the first time the Blues had won the derby since 2010 and their first win over Liverpool away from Goodison Park since 1999.
Richarlison certainly partied as if it were 1999 on Twitter, posting a celebratory image to his official Twitter account with his tongue out in a taunt to the Liverpool faithful. The responses to the tweet were littered with indignant comments, though one reply evidently stood out to Richarlison.
In a presumed reference to Jordan Pickford's potentially season-ending injury to Liverpool's Virgil van Dijk in the reverse fixture and Richarlison's lunge on Thiago in the same game, one Reds fan replied 'you did not give anybody a serious injury today…well done…progress'.
That comment caught the attention of the Brazilian, who issued a comeback in emphatic style by saying: 'Apparently the only thing injured today is your broken heart,' accompanied by a shrugging emote.
Apparently the only thing injured today is your broken heart ¯_(ツ)_/¯

— Richarlison Andrade (@richarlison97) February 20, 2021
That only exacerbated the furore, although many Everton fans revelled in praising Richarlison for his reply to the disparaging Kopite:
Twitter: @richarlison97 @evertonno1 @SHSin2020 @LfcOkx That's the way Richy. Twist the knife. Made up for you. Keep those go… https://t.co/Qo4TEvr58Q (@Jeffreyhitchmo1)
Twitter: @richarlison97 @Tinkerbella0719 @SHSin2020 @LfcOkx Richy, your English is perfect (@seann1878)
Twitter: @richarlison97 @SHSin2020 @LfcOkx Richie, tell Tom he can let Thiago go now. https://t.co/ycUUFtkhxE (@BlueinQ)
Twitter: @richarlison97 @benjwinstanley @SHSin2020 @LfcOkx Ahahahah yes richi love you https://t.co/7JK4rWXXTp (@Efc1878toffees)
Twitter: @richarlison97 @EvertonBlueArmy @SHSin2020 @LfcOkx Richy my son, never leave. You might well go on and win everythi… https://t.co/uyXsg5U0LN (@thekarlconnor)
Twitter: @richarlison97 @SHSin2020 @LfcOkx Some boy you hahahaha is right Richy (@bighfizzle)
---