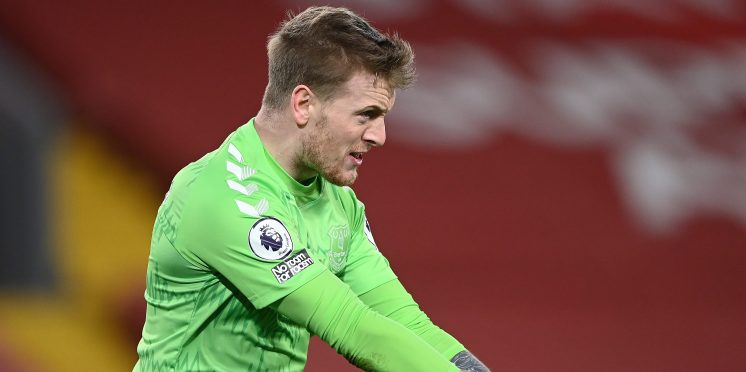 Danny Mills claims Jordan Pickford should go back to basics
Former England defender Danny Mills has hailed the goalkeeping abilities of Jordan Pickford but called upon the Everton shot-stopper to return to simplicity in his playing style.
Speaking to Football Insider, the pundit alleged that the 26-year-old took a superfluous approach to his job, squandering a solid foundation of honed basic abilities in the process.
Indeed, the England international has come under fire in recent months over some high-profile errors and controversies, but Mills has urged him to just go back to basics, saying:
Jordan Pickford is a very, very capable goalkeeper. He just needs to stop trying to be good and just allow it to happen.

Stop trying to show everybody how great you are, you are a very good goalkeeper. Just do what you have to do and do it when you need to do it. Don't do any more than that. Simplicity is genius, if he can get his head around that and deal with that he will be a very good goalkeeper.

You can play some passes from time to time, but you're only really looking at two a game. That's not your job. Your job is to do what you need to do when it needs to be done.

You can only stand out as a goalkeeper when you're under pressure and when you're called upon but you can't force it to happen.

An outfield player can go and make something happen – make a challenge, create a chance, score a goal. As a goalkeeper you're reliant on the opposition so mentally it's the most difficult position.
Read Everton Verdict
Pickford was very much at his best for Everton against Liverpool on Saturday. His commanding display proved pivotal in dampening the typically ignited Reds front three of Mo Salah, Sadio Mane and Roberto Firmino.
Winning the WhoScored Man of the Match for his display, the magnanimous command held by Pickford was rightly recognised for being the platform for Everton's win.
The greatest challenge is simply coaching Pickford to maintain such a consistently high calibre of performance on a routine basis. As Mills has suggested, it may be time for a back-to-basics approach.
---