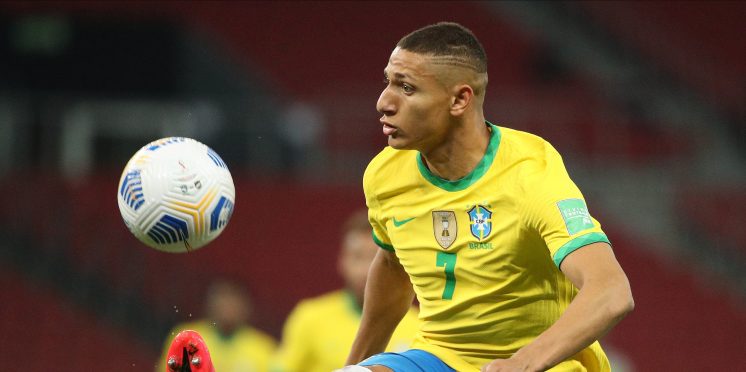 Danny Mills Claims Everton Would Need £80m+ To Sell Richarlison
Former Leeds and England defender Danny Mills has claimed it would take a bid of at least £80 million for Everton to sell Richarlison to Real Madrid.
Following Real Madrid's acquisition of the ex-Everton tactician, reports from Football Insider have claimed the Brazilian attacker is a wanted man by Ancelotti at the Bernabeu.
The report adds that the club would consider a sale if the versatile creative outlet pushes for an exit, whilst ex-Real Madrid and Bayern Munich man James Rodriguez could also be leaving in Mills' view.
Speaking to Football Insider, Mills claimed of Everton's transfer prospects:
"Fee wise, James Rodriguez wouldn't be a huge fee, he moved to the club on a free in the first place.

"His wages will be high and he's struggled with fitness at the back end of the season. He probably only came to Everton in the first place for Ancelotti so that's a possibility.

"Richarlison, is he good enough to take that next step up to Real Madrid? It's a bit of a gamble, especially with the Gareth Bale situation at Real Madrid.

"Everton would want big, big money for a player like Richarlison especially from Real Madrid with Ancelotti trying to take him.

"That's less likely to happen. They paid £50million, so they'll be thinking 'Hang on a minute you're nicking a player we're going to have to replace, you're looking at £80million or £90million.'

"I'm not sure he's in that bracket, although that's what it's going to cost."
Read Everton Verdict
With Everton already working hard in the hunt for a suitable replacement for Ancelotti, further market upheaval will be the last thing on Farhad Moshiri's mind.
Keeping key the core of the squad in tact will be at least part of a focus in the summer window, with hopes being upheld that Richarlison among others would not agitate for a move.
Able to play adeptly on either wing and as a centre-forward, the £54 million-valued man [Transfermarkt] would have to command a hefty fee from any suitor – especially given that he remains under contract for a further three summers.
With 10 goal involvements in 34 appearances in the Premier League, it is hard to refute Mills' suggestion that few would be willing to pay £80 or £90million.
---