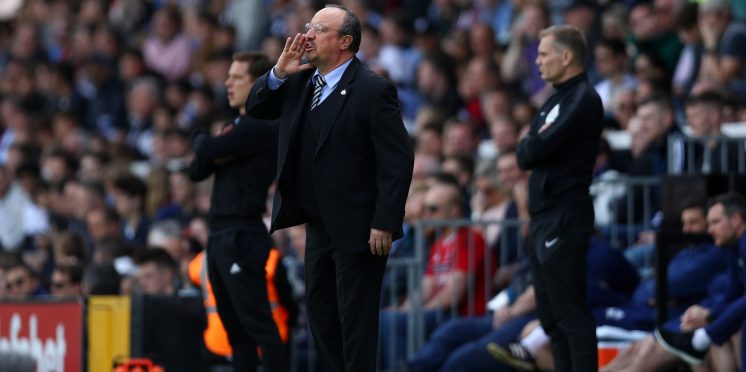 Simon Jordan Unsure on Everton Moving for Rafa Benitez
Pundit Simon Jordan has claimed that Everton will not be signing an 'elite manager' if the club chooses to bring the ex-Liverpool boss to Goodison Park.
The former Crystal Palace owner downplayed the acumen of the Spanish manager, whose last Premier League job was with Newcastle United.
According to The Telegraph, Benitez is firmly in the frame for the Everton job despite his history on the other side of Stanley Park.
Benitez does boast a Champions League win to his record and possesses top-flight experience in English football with Chelsea, with his most recent post being with Chinese Super League side Dalian Professional.
Since returning from China, Benitez recently took to social media to confirm he was residing at his family home in Liverpool, issuing a mundane statement about the English weather.
Liverpool academy product and club-grown hero Jamie Carragher recently endorsed an Everton move for Benitez, claiming that the Spaniard would 'walk over hot coals' to take the job.
However, pundit Simon Jordan was less than enthusiastic on the idea of Benitez having roots in both the red and blue halves of Merseyside as he spoke to talkSPORT:
"I can see Rafa Benitez pitching up wherever an opportunity benefits Rafa Benitez," Jordan claimed.

"It's a great club, obviously there's some history managing their great rival Everton have in Liverpool.

"He's a good manager. He's a very, very good manager – there's no doubt about it. I just don't like the way he operates.

"But his career now is on a different trajectory. Elite doesn't mean historically elite, it means you are at the top of your game at the moment you've been employed.

"The options available to him are to go somewhere for a vast amount of money rather than a meaningful football club.

"I don't think they get an elite manager, but a capable operator."
Jordan then reflected on the nature of the rivalry between the two sides, claiming that Benitez' past would be spun for better or worse depending on whether he could deliver success or not to Goodison Park:
"Obviously it depends on the tribalism upon the nature of the tribalism and rivalry, it's not worked previously," he added.

"Ask Tottenham fans, did they accept George Graham when he came from Arsenal to Tottenham. How did that look like?

"You look at those sort of things and ask 'does it work well?'

"It will work well if Rafa Benitez if he comes in and is instantaneously successful then the connection will be dropped.

"If, by any chance, that he doesn't hit the ground running and doesn't got the way Everton fans think it should go then the Liverpool connection will be more prevalent."
Read Everton Verdict
There can be little doubt that Benitez' history of entanglement with the Toffees' arch-rivals will make for a complicated relationship with the fans.
The 61-year-old would come in at a reputational disadvantage given his past, and will have to work doubly-hard to ensure his critics can be won over.
---