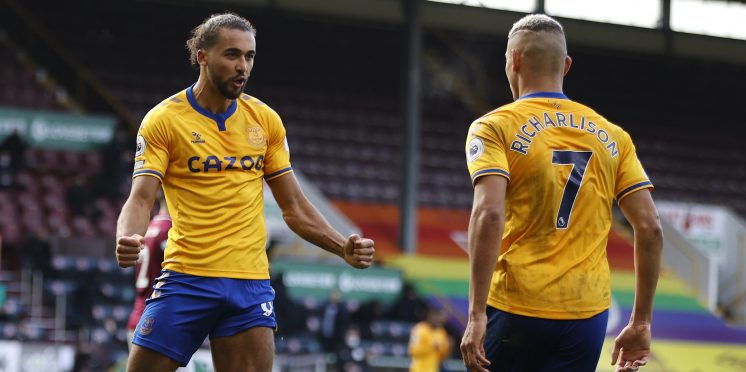 Carlo Ancelotti Praises Dominic Calvert-Lewin for Development
In what constitutes the highest of praise, Carlo Ancelotti has issued a glowing update on Dominic Calvert-Lewin's development, having previously likened in-form hitman Calvert-Lewin to Italian striking hero Filippo Inzaghi.
Calvert-Lewin, who has currently amassed eleven goals after his equaliser against Burnley, currently stands as the league's top scorer this season.
Unsurprisingly, Ancelotti was left impressed when he reflected upon the form of Everton's target man. He was keen to note improvements in his consistency and overall striking attributes.
'He's a fantastic striker. I didn't expect this kind of consistency,' said the Italian.
'He's scoring every game. It's so important for us. It's a big surprise and I hope it will be another surprise at the end of the season.
'The important thing for him is consistency,' Ancelotti added. 'He's really improved in the box, the movement is outstanding.'
Calvert-Lewin's scoring record this season means that the striker is scoring every 88 minutes in the League.
His manager has previously compared him to the greatest goalscorer he has arguably ever worked with, Filippo Inzaghi.
The Italian centre-forward, famed for his stints at AC Milan, scored 191 goals in just over 300 appearances in his career. He has also played for other Italian sides such as Juventus and Hellas Verona.
He currently enjoys a managerial career and is in charge of Serie A side Benevento.
Read Everton Verdict
Having worked as a teammate with Inzaghi, for Ancelotti to issue such praise is nothing short of monumental. Ancelotti's insights demonstrate that the hitman is indeed moving in the right direction.
It is not a comparison to be taken lightly; the prolific nature of Inzaghi is clear, so for Calvert-Lewin to garner such praise is indicative of the bountiful potential that lays before him.
Calvert-Lewin will only be hungry for more goals as he looks to continue his excellent run of goals.
---